Automatic Data Processing (ADP) is a "premium" company. What I mean by this is that its valuation typically trends to follow at least several numbers of multiples above what I would typically consider "fair value". Reviewing such a company is tricky because its continued success and positive returns hinge very much on a continued trend of the company's premium – which is typically based on some sort of outperformance, dividend growth, or a mix of variables.
Nonetheless, I bought ADP at north of $103/share and consider it well-bought. Let me show you why I bought it, and why I'd buy more as well as at what price.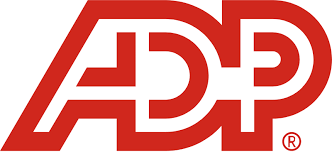 Automatic Data Processing – What does the company do?
Automatic Data Processing is one of the largest HCM and HRO-oriented companies in the entire world. Its field is Human resources, and it provides customers with payroll services, human capital management, Talent, time management, benefits, and other HR-related services for both the extremely small as well as the global corporations.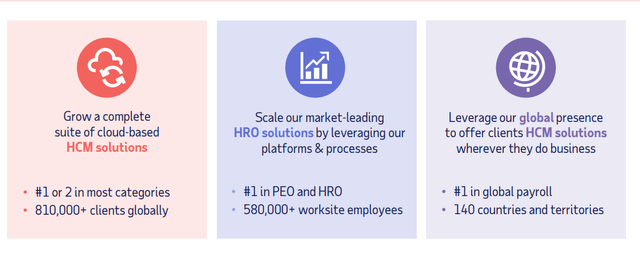 (Source: ADP Innovation Day 2020)
The company was founded back in 1949 to enable customers to focus on their core business activities, by, as has become standard, freeing up from non-core tasks such as payroll and HR management services. Today, as of FY19, the company serves 860 000 clients in 140 countries.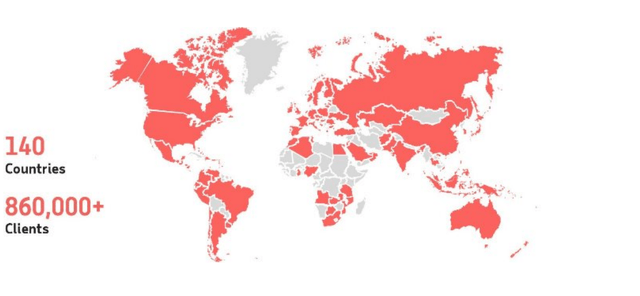 (Source: ADP 10-K)
So, the company in essence does two things. It provides products and services that help to manage employees, and it also provides complete outsourcing for these services where ADP offers complete management solutions, including liability management, and so forth. These are HCM and HRO, respectively, and the company is actively trying to leverage its massive market size to become even larger.
The company's services are split into two reportable segments.
Employer Services offer clients ranging from single-employee businesses with corporations holding tens of thousands of employees with solutions including strategic, cloud-based platforms managing the areas of payroll, benefits, talent management, HR, Workforce, Compliance, Insurance, and retirement.
Professional Employer Organization, known also as ADP TotalSource, provides the mentioned outsourcing of administration and employment, where ADP actually takes over as co-employers and employees are known as "worksite employees".
The company, through its extensive solutions with its premier HCM suite, manages payroll services for about 1 out of every 6 workers in the US – or about 22 million workers. The solutions in this software suite are extensive and include almost everything an employer might need, including even compliance solutions for tax purposes, where the company delivered more than 69 million employee year-end tax statements and moved more than $2.2 trillion in client funds to tax agencies and other payees. The company also files tax returns.
The secondary solution, mentioned as ADP TotalSource, is different, as it offers a co-employment model. ADP here assumes employer responsibilities, including payroll, tax, and other things, while the business retains management responsibilities and the like – again, enabling the company's clients to focus on running the business, as opposed to running payroll/HR. The company as of FY19 serves 13,000 clients in the US alone with its TotalSource solution, managing 530,000 worksite employees. TotalSource is the largest professional employer organization ("PEO") certified by the IRS in all of the USA.
To this, the company also adds global solution services that contain multi-country and in-country solutions that are scalable to any client size. With multi-national payroll and HR scenarios in such companies, ADP uses its expertise to assist clients to comply with a multitude of legal HR frameworks and seeks to make it possible to work not in one or five countries – but in over a hundred.
So, what does ADP do? ADP is a full-service provider of anything having to do with HR – regardless of size, scenario or geography, ADP seeks to be able to fulfill client needs. Competition does of course exist, and it exists everywhere. The competition takes many different forms. In Sweden, for instance, competition for this sort of thing is woven into accounting suites, such as Visma, where clients use Visma's products to handle day-to-day accounting and bookkeeping and also getting the company's HRO/HR management tools and payroll. I myself, in handling my companies, use these products to do both, and I know from experience that it's not a question of size, with everything from single-employee companies to tens of thousands using similar products. On an international basis, ADP's peers are companies like SAP (SAP), Workday (WDAY), Ultimate Software, Paychex (PAYX), Epicor, and so on. In terms of absolute size when looking at Revenue, SAP is more than twice the size of ADP. In short, ADP works in a field where constant innovation and keeping on top of the competition isn't an option, but a necessity and even a large market share isn't a guarantee of success.
ADP is a highly acquisitive business. While organic growth does contribute significantly, the company also is an active M&A'er, with several over the past few years alone to broaden its scope.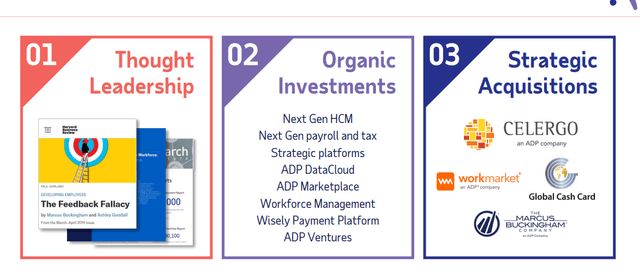 (Source: ADP Innovation Day 2020)
The company has already, long ago, taken the step that's been hard to take for nationally-oriented providers such as Visma – that step is to globalize the company's operations. This, of course, gives them a distinct advantage which differentiates them from large parts of the competition.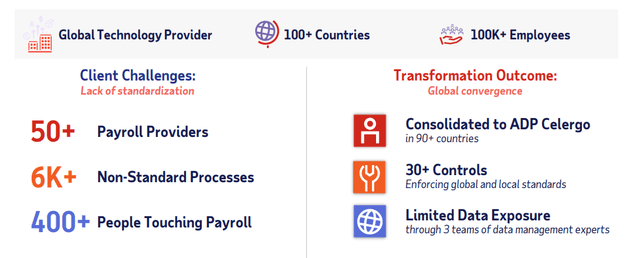 (Source: ADP Innovation Day 2020)
The company's mobile services and apps are well-received and well used, with excellent scores and over 90M monthly logins for the company's MyADP app. I personally did a bit of a deep-dive on the program to see what it looked like and how it worked, and it seems to offer very similar – though more expansive – services to my own HCM app and software suite, albeit on an international level. I don't have a need for things like benefits enrollment where I live/operate, but the software suites seemed, on a purely subjective level, extremely easy to use and well put-together.
What interested me when I began looking at the company over a year ago was the split between bookkeeping/accounting and HR/HRM solutions. This is a completely natural fit here in Scandinavia, with virtually every solution provider combining the two – whereas outside of Scandinavia, it does not seem common at all. I'm not speaking to the possibility of exporting data to bookkeeping software suites, I'm talking about the two being part of the same system, always.
The company is also employing new thinking modalities such as constructing teams, things we've seen in newer providers such as Slack (NYSE:WORK), incident response platforms, and many more innovations aimed either at a specific type of client or a specific field. Here, of course, I can see the advantage of differentiating HR more from bookkeeping, as the software suites here don't offer even close to the same flexibility in things HR.
So, what are we looking at here? We're looking at one of the world's largest payroll and HRM/HRO companies. They offer services aimed at catering to every possible HR need, irrespective of client geography, scale or segment. The fact that they've been doing it for over 70 years shows reliance, and the company is as quality as quality gets in the field – at least seen from the surface of things.
Let's look at the results.
Automatic Data Processing – How has the company been doing?
We need no crystal ball to know what trends will impact payroll/HR companies during a time of unprecedented global deployment decline. It would be surprising to see anything close to positive, and indeed, we're not.
The company saw revenue and EBIT declines, with the company's much-lauded EPS growth being flat.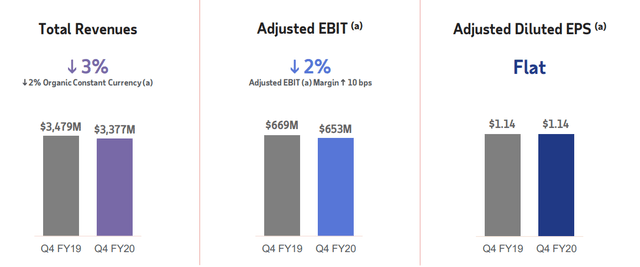 (Source: 4Q20 Results, ADP)
These results were driven primarily by the Employer Services segment, with significant COVID-19 headwinds. The company calls overall performance better than expected with numbers gradually improving, but new business bookings are down 67% YOY, including the backlog, with the continued strong FX from the USD impacting company operations as well. Fund balances are down, client fund yields are down, and only expense reduction across its entire portfolio of businesses saved ES margins from dropping.
In the company's PEO services segment, revenues were actually up due to strong retention, but margin declines at a very significant level (down 450 bps to 10.9%) due to expenses impacted things heavily.
The company doesn't exactly see things improving going into FY21 either. Pays per control are expected to be negative through 3Q21, but turn positive in 4Q21, then average for FY21. ADP sees further balance declines in client funds and interests, with a 50 bps drop in average yield.
The overall outlook more or less says it all – things aren't going to improve quickly.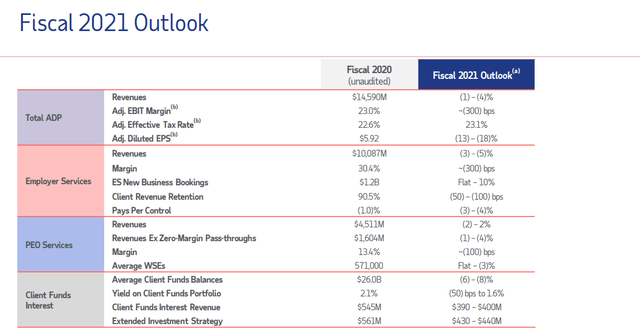 (Source: 4Q20 Results, ADP)
But it's not all bad, that's for sure. The company's revenues and adjusted EBIT as well as adjusted diluted EPS for the full fiscal of 2020 are all trending positive.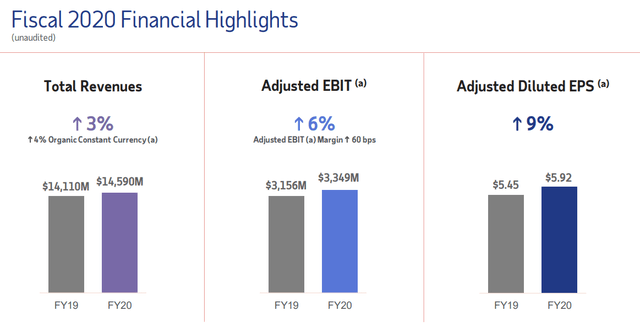 (Source: 4Q20 Results, ADP)
So should we be immediately worried because of these negative results? No, not really. The thing is, ADP is one of the most conservatively managed companies in the entire segment.
Debt? The company has barely any, coming in at 0.22X NTM net debt/EBITDA, and a 0.11X debt/cap rate. The interest coverage is 30.71X. The company is safe here. It's AA rated, one of the very few dividend-paying companies to reach such a level.
I recently lauded a company for achieving a 20%+ RoE rate – ADP makes this look small, coming in at a 44% LTM RoE ratio, and 37% RoiC, confirming not only an economic moat but also management's capital allocation skill. The company has operating margins nearly above 23% across the entire business. Make no mistake – this is beyond good – it's excellent by any measure.
The one thing that perhaps is trending a bit high is the company's EPS payout ratios. I expected, over a year ago, ADP to have no more than a 20-30% payout ratio, but the fact is that ADP trends towards 60%, and on an NTM basis pays out nearly 73% of EPS to shareholders. Of course, this also comes with a nearly class-leading 45-year dividend streak, making it a dividend king in 2025 – which I have no doubt the company will achieve.
My own research puts ADP as "Class 1" as Class 1 gets, with its credit rating, safe dividend, and a moat actually considered to be "wide". It's better than many IT companies I currently look at, and with a 13% dividend growth rate over the past 5 years, it achieves a chowder number of 15.7X at today's position, dividend growth rate, and price. Its meager yield and what I consider to be not that good valuation prevents it from reaching higher than 2.9/4.3, but very few companies with low yields reach as high as 3+ in my QO-system.
What can be said for how the company has been doing is therefore that the company, being an HR and Payroll company at heart, has managed to prevent things from coming tumbling down, and given their business, this is quite "good enough". I do not expect things to recover quickly – and nor should you – because it's unlikely that they will. The best thing we can hope for regarding ADP is that the company continues its excellent capital management and carefully returns operations to normal levels in tandem with the economic recovery.
I've no doubt they'll do just that – let's look at valuation.
Automatic Data Processing – What is the valuation?
Valuation for ADP can be seen in two ways – but it requires a bit of explanation. As I mentioned initially, ADP is a high-market-share, high-moat, high-growth company. This merits a premium as the market sees, and the company has nearly always traded at a premium (with two very specific exceptions over the past 20 years.
Furthermore, going into COVID-19, ADP traded at an overvaluation so excessive, I would have considered divesting the entire position and waiting for it to fall back down. ADP is great, but I don't see it being able to keep up the sort of growth warranted for a 30X earnings multiple – as we saw in 2019.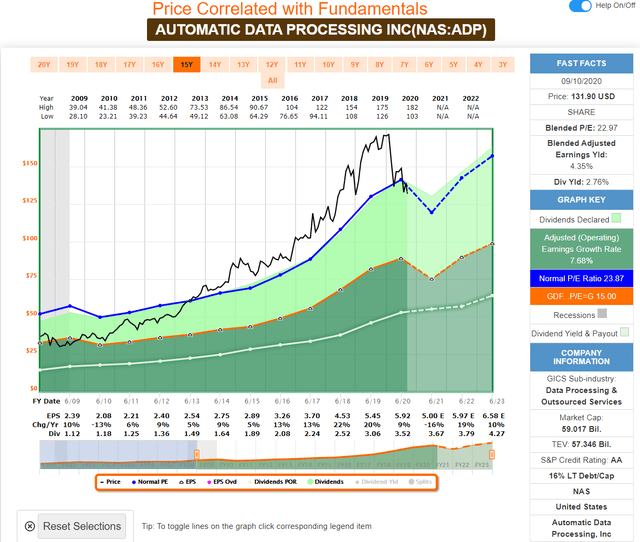 (Source: F.A.S.T graphs)
So, let's make a few things more clear. ADP doesn't really negatively miss estimates with a 10% margin of error. Not during the past 20 years, at least. While forecasts and expectations shouldn't be taken as gospel in any scenario, ADP seems easy enough to forecast to consider the earnings forecasts at the very least "indicative". I make the judgment call to view them this way, based on the historical data and that I've seen no reason in company expectations that the company is either too negative or positive, given the current situation.
Having said that and despite the company now trading "below" its 15-year average premium, I don't view the company as undervalued when we take the problematic 2021 into account.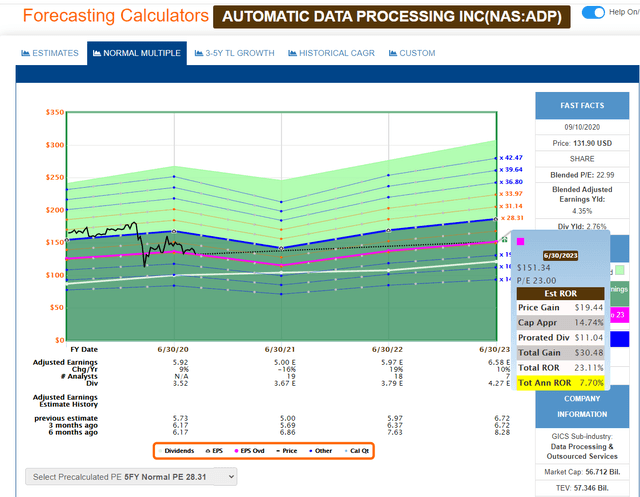 (Source: F.A.S.T Graphs)
If we assume that the 23X earnings multiple premia will be upheld in the long run going into fiscal -23 and -24, then an investment at current expectations would potentially bring no more than 7.7% annually. Now, I know what you may be thinking. This is a great company, and 7-8% from a great company that's safe may be good enough.
It may be, but when I invest, I want potential annual returns of at least 9-12% and those calculated at a conservative level. Even if we consider 23X to be fairly conservative for ADP – which I have to tell you, I'm not sure I do, there's a bit too much faith in the company's historicals for me to be comfortable giving the company such a multiple.
I began staking out my position in ADP based on a 19.9X earnings multiple back in March. The company was trading at nearly $110/share, and the upside was nearly 14-15% – that's where I am, and my capital appreciation has already rewarded me here. I have no intention of divesting my shares here.
But here's the thing. Given the company's own forecasted average earnings growth of "only" 4-5% (which for a mature company is still great), I see the market overestimating ADP's value at this time. Given what we're likely to see in fiscal 2021, I think ADP's valuation should be closer to a 20-21X earnings multiple, which based on averaging the coming 3 years EPS forecasts, comes to a 5.85×20/21, or a share price range of $117-122/share.
I don't view it as unrealistic that we may see these levels for ADP over the next few months.
Critics of this valuation range may view these expectations as excessively conservative given ADP's history and quality – to these I say; You may be underestimating the impact of ADP alternatives in a post-pandemic world where businesses, especially smaller ones, may be looking at free HR management tools to cut costs. They exist, and they're growing.
In the end, it's about what I'm willing to pay for ADP.
I'm unwilling to pay more than a range of $117-122/share for a share of ADP's business and profits, and this makes ADP 7-11% overvalued at today's numbers.
Automatic Data Processing – Bulls and Bears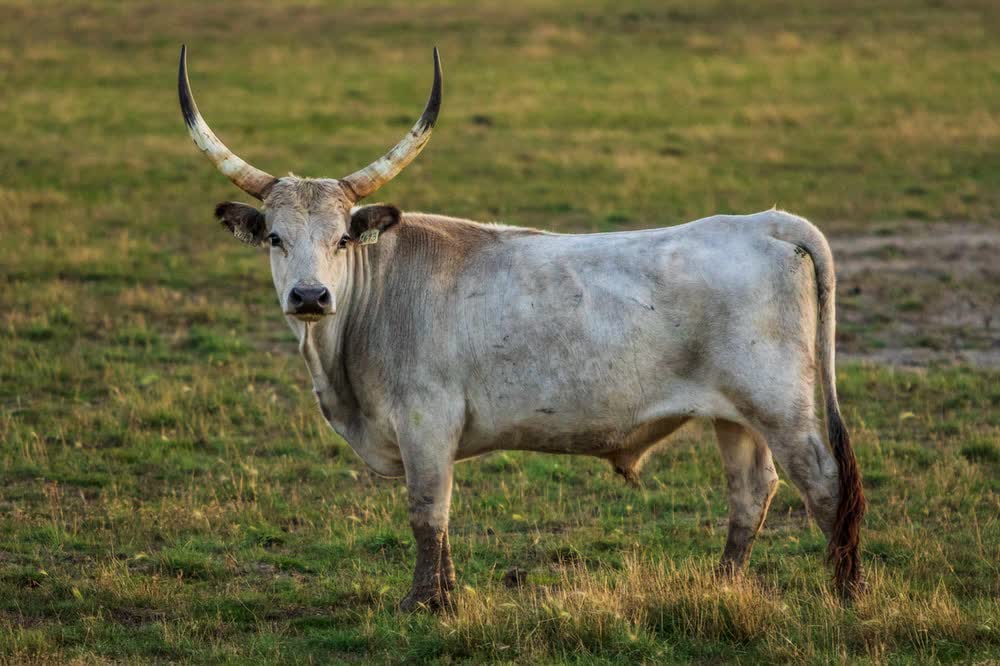 (Source: Unsplash)
My stance that ADP is somewhat overvalued should in no way be mistaken for any sort of non-bullish stance. I'm bullish on the company's long-term expectations, and it may indeed turn out that my valuation range is too conservative and the company doesn't reach an appealing valuation that would allow me to go in and purchase further shares.
In this case, however, I'll sleep well knowing I've invested in companies that, in my view, have a better potential of providing me with higher returns. The bullish thesis on ADP is that the company won't in fact fall further, even as a result of at least a further negative 3 fiscal quarters in 2021, and we won't see valuations close to the valuation range I've given. If this turns out to be the case, then today's price for the company marks an opportunity to invest in ADP at what could be considered a good price.
The bulls would make the argument that based on ADP's market position, share and potential, a 23X multiple shouldn't be adjusted simply because of one negative potential year – and this may be so. Bullish investors on ADP would also tell bears to have more faith in management and their proven, capital allocation skills.
In essence, however, as I see the bullish thesis, it boils down to the assumption that today's price isn't overvalued, despite the higher multiple and forecasted issues in fiscal -21.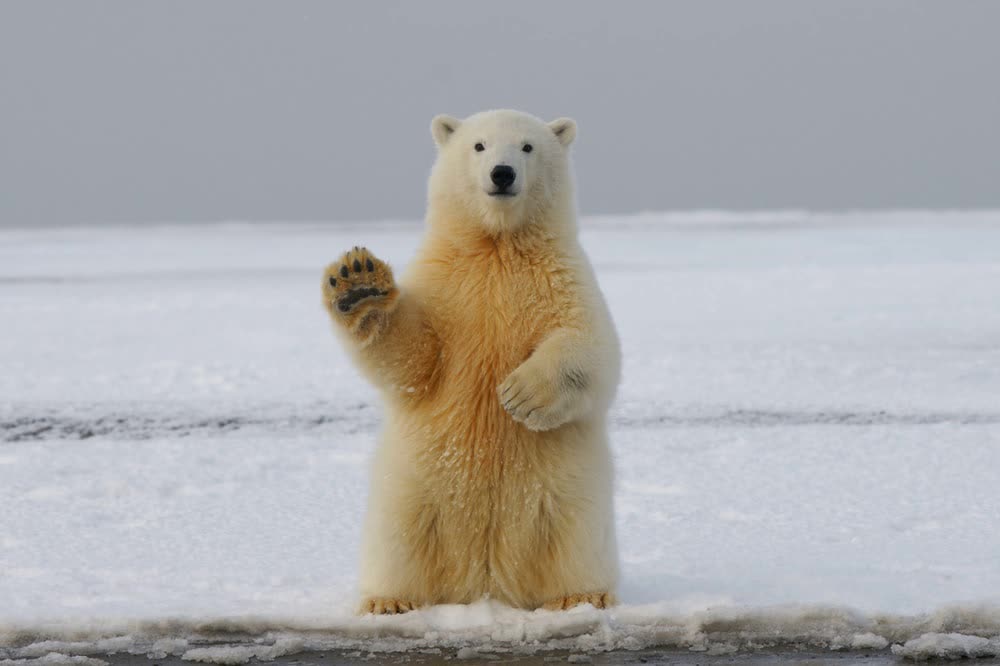 (Source: Unsplash)
The bearish thesis is where I lie. The company can't be called excessively overvalued, but the company's valuation indicates that the negative 2021 fiscal won't actually occur. Had this been the case and growth would have been more flat, I wouldn't have had a problem with such a premium – the calculations and forecasting models would have even supported it. At this point, however, I view the company's share price to be unfairly high in the light of the coming troubles in the next year – even if these troubles are likely only temporary.
So the slightly bearish, or neutral/bearish thesis I represent calls for ADP to be valued at a level somewhat more "fair" in the light of these expectations – at this point, I'd be willing to invest more.
Thesis
ADP is a great company – one of the best, if not the best in its field. I'd rather invest in ADP than in competitor SAP, and with its qualities, history, management, moat, and products and balance sheet, it exemplifies just what a company "should" look like when operating in this, or in any field related to this.
However, in the end, it all boils down to what I'm willing to pay for company earnings/cash flows. Even when looking at the company's earnings recovered in 2023, I view the current average of these prospects as too unfavorable to purchase any more of the company's stock. It's not much – 7% isn't double-digits, and it's not world-ending, but I look at, and want minimum returns for a reason. If no such returns were available in the broader market, there might be something to investing in ADP here, but the fact is the market offers fundamentally more attractive alternatives – even in the same sector – with higher potential annual returns than ADP.
Because of that, ADP is a "HOLD" here.
Thank you for reading.
Stance
Due to a 7-11% overvaluation, ADP is a "HOLD" at this time, with a price target range of $117-122/share.
Disclosure: I am/we are long ADP. I wrote this article myself, and it expresses my own opinions. I am not receiving compensation for it (other than from Seeking Alpha). I have no business relationship with any company whose stock is mentioned in this article.
Additional disclosure: While this article may sound like financial advice, please observe that the author is not a CFA or in any way licensed to give financial advice. It may be structured as such, but it is not financial advice. Investors are required and expected to do their own due diligence and research prior to any investment.
I own the European/Scandinavian tickers (not the ADRs) of all European/Scandinavian companies listed in my articles.