By Sam Korus, Analyst for ARK's Autonomous Technology and Robotics Strategy
Based on ride-hailing networks and the shift from gas-powered to electric vehicles, ARK believes that the risks to auto loans, the asset-backed securities supporting them, and their underlying collateral are not well-understood and could cascade through the global auto ecosystem.
The percent of auto loans delinquent by 90 days or more has been rising for almost four years and is approaching levels last seen during the Global Financial Crisis (GFC) in 2009, as shown below. During the GFC, most consumers and businesses prioritized the servicing of auto loans over their mortgages because, in the absence of ride-hailing, they relied on vehicles to keep their jobs and businesses going. Now, working from home, they seem to be prioritizing mortgages and home equity (HE) loans over auto and credit card debt.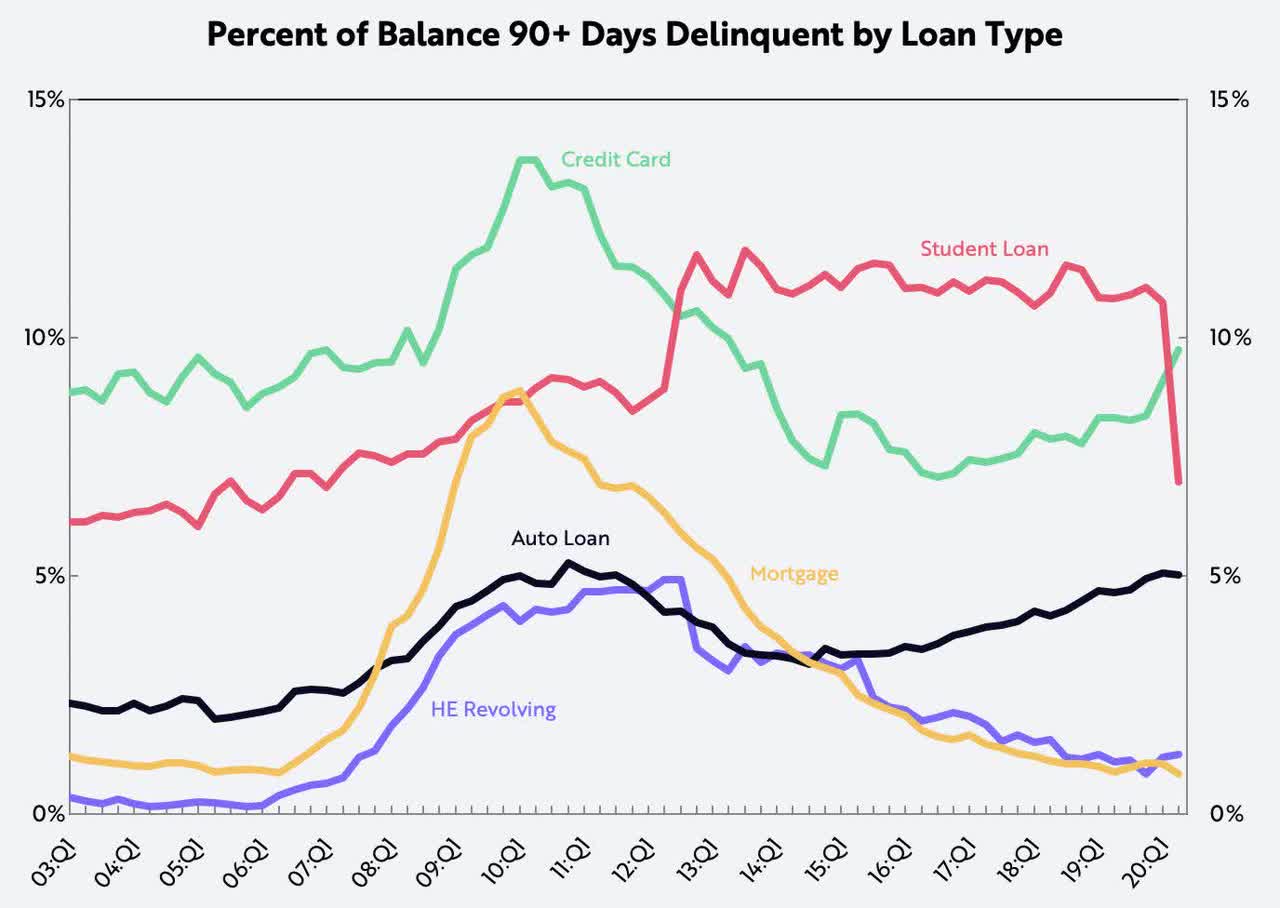 Source: ARK Investment Management LLC, Data sourced from New York Fed Consumer Credit Panel/Equifax
Interestingly, it appears that the coronavirus crisis also has caused a surge in used car sales as people opt out of public transportation. ARK believes that this short-term spike in demand is not the harbinger of a long-term trend, especially now that ride-sharing offers an alternative to car ownership. Soon, autonomous ride-sharing should make the negative case for used cars even stronger.
Because of their performance during the GFC, the industry seems to have been lulled into believing that auto loan delinquencies will top out at roughly 5%. In our view, however, they could double or more, approaching the level of mortgage loans or even credit cards in 2009-2010.
To make matters worse, investors may be overestimating the value of the collateral underlying auto loans. While most used vehicles are gas-powered and human-driven today, the shift to electric and, ultimately, autonomous vehicles is likely to depress the residual value of used vehicles significantly.
What amount of collateral is at stake?
ARK values the roughly 260 million registered vehicles in the US at roughly $2.6 trillion, with $1.2 trillion securitized or backed by loans, and the remaining $1.4 trillion on consumer "balance sheets", as shown below. ARK anticipates that consumers and lenders exposed to auto loans will have to write them down, casting a pall on auto-backed securities.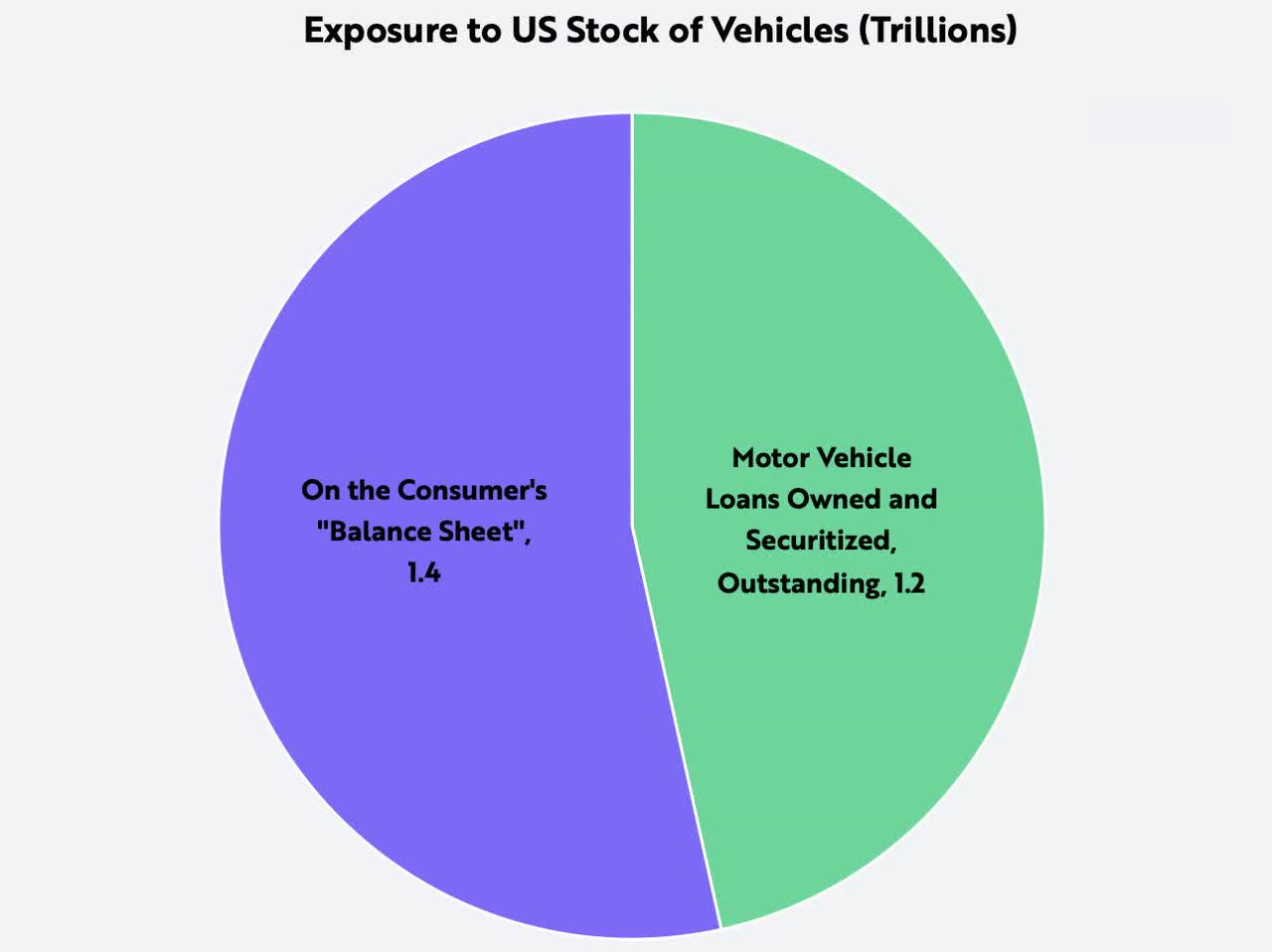 Source: ARK Investment Management LLC, 2020
A surge in loan-to-value ratios could prevent traditional auto manufacturers from offering low interest financing and other incentives to purchase new cars, while a haircut to the estimated $1.4 trillion on their own balance sheets could lower consumers' auto purchasing power because trade-ins facilitate nearly half of new car sales.
If our analysis is correct, then car dealerships are in harm's way. Service, financing, and insurance account for roughly 70% of their gross profits, as shown below. Given much lower maintenance than that for gas-powered autos, we believe EVs are likely to damage dealers' servicing business while default rates hit their financing business. As a result, in early June, Wells Fargo put an end to new loans for independent car dealerships.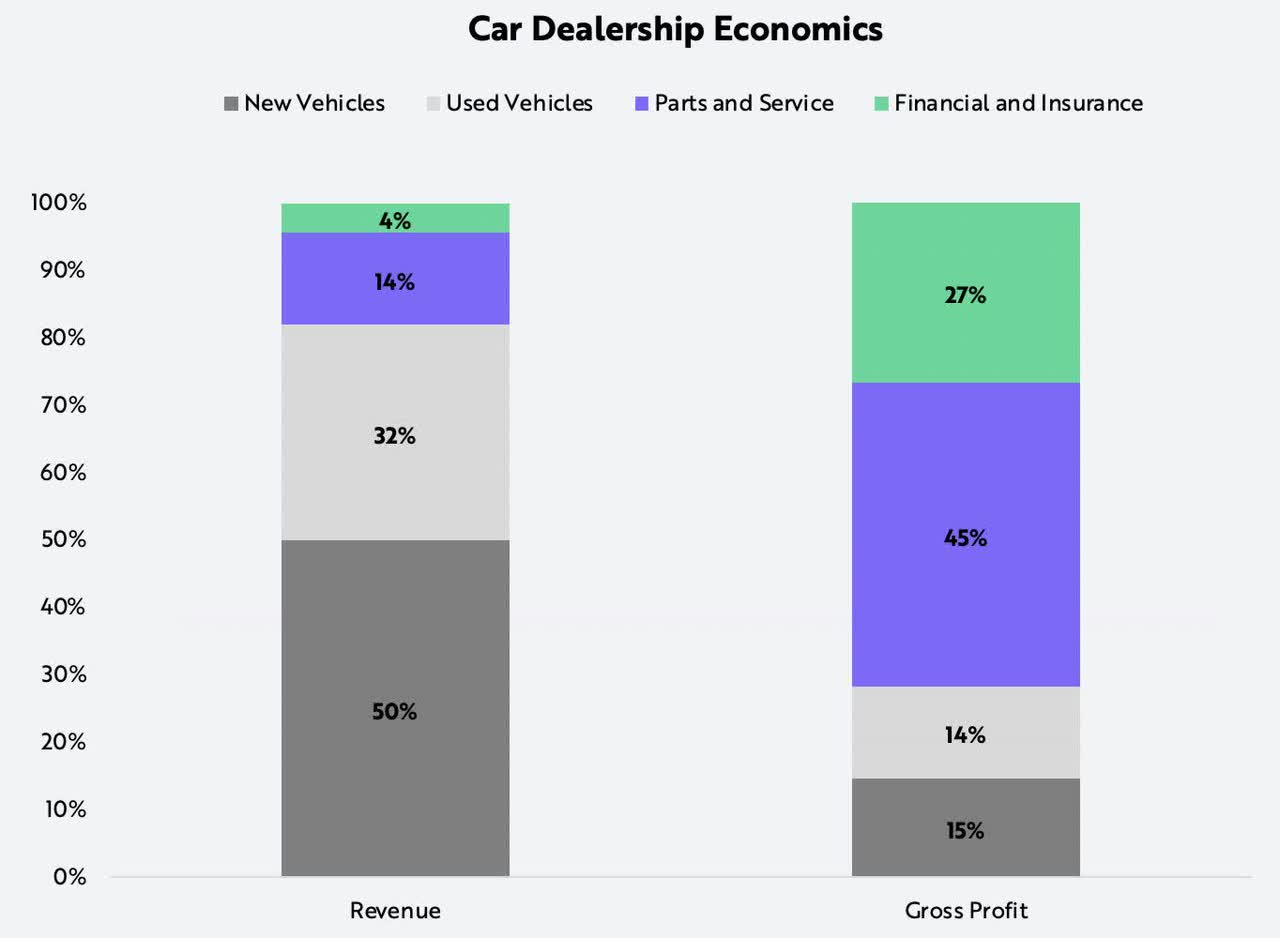 Source: ARK Investment Management LLC, 2020
Traditional auto manufacturers have significant balance sheet exposure to autos and have provided auto dealers with inexpensive financing to encourage sales. If auto loan delinquencies and defaults continue to rise, we believe not only will dealerships go bankrupt, but auto makers will lose both their distribution networks and the ability to stimulate sales with bargain basement financing.
Despite these risks, investors have focused more on the short-term rebound in auto demand from the COVID-19 crisis as consumers opted for personal transportation over mass transit. In ARK's view, during the next year or so, the secular risks will kick back in, threatening the entire auto loan ecosystem.
Disclosure: ARK's statements are not an endorsement of any company or a recommendation to buy, sell or hold any security. For a list of all purchases and sales made by ARK for client accounts during the past year that could be considered by the SEC as recommendations, click here. It should not be assumed that recommendations made in the future will be profitable or will equal the performance of the securities in this list. For full disclosures, click here.
Disclaimer: ©2020, ARK Investment Management LLC ("ARK"). All content is original and has been researched and produced by ARK unless otherwise stated. No part of ARK's original content may be reproduced in any form, or referred to in any other publication, without the express written permission of ARK. The content is available for informational purposes only and is subject to change without notice. All statements made regarding companies or securities or other financial information on this site or any sites relating to ARK are strictly beliefs and points of view held by ARK or the third party making such statement and are not endorsements by ARK of any company or security or recommendations by ARK to buy, sell or hold any security. For a list of all purchases and sales made by ARK for client accounts during the past year that could be considered by the SEC as recommendations, click here. It should not be assumed that recommendations made in the future will be profitable or will equal the performance of the securities in this list. For full disclosures, please see the Terms of Use for this site.
Original Post
Editor's Note: The summary bullets for this article were chosen by Seeking Alpha editors.